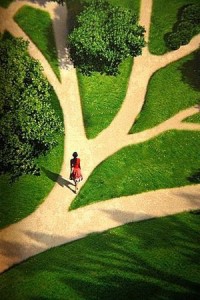 "Among all my patients in the second half of life—that is to say, over thirty-five—there has not been one whose problem in the last resort was not that of finding a religious outlook on life. It is safe to say that every one of them fell ill because he had lost what the living religions of every age have given their followers, and none of them has been really healed who did not regain his religious outlook." These are the words of the renowned psychiatrist, Carl Jung. His experience of those in crisis was significant. When the crisis comes, and it will, we either find a spiritual path or we get stuck in depression and/or addictive behaviour. Finding a spiritual path requires us to surrender; self-sufficiency keeps us in a cycle of attachments and addictions.
There are many different spiritual paths available to us.  Some are highly structured and require a lot of discipline; others involve a commitment to the practice of a few core values.  A spiritual path gives us a sense of meaning and purpose.  It provides us with a way of dealing with painful experiences like hurt, abuse, rejection and negative feelings like anger, resentment, jealousy.  It also helps us feel connected to the divine presence in our lives.  For many this connection with the divine presence is an experience of unconditional love, forgiveness and protection that they have never felt before.
A spiritual path needs to have three elements.  These are prayer, companionship and service.  Prayer builds our relationship with the divine. Companionship is the experience of human affirmation, support and guidance. Service is the essential movement beyond ourselves in response to the needs of others.  If our spiritual path does not have these three elements it lacks balance and perhaps authenticity.
It is important to remember that every spiritual path is not an end in itself but a means to an end.  There is always the danger that we will make an idol of our spiritual path.  If we become too attached to our spiritual path we are putting the path itself in the place of God.  The ultimate purpose of every spiritual path is to help us surrender to God who wants us to come home with empty hands.  "You have made us for yourself O God and our hearts are restless until they rest in you" (St Augustine).